Energy renovation: towards best practice?
29.3.2022, 14:30 – 29.3.2022, 17:00, Leonard:Paris (6 pl. Bourgoin, 75012), Paris, France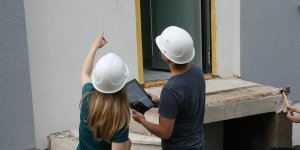 The rising cost of energy and regulatory changes make the subject of energy renovation unavoidable.
At this conference, we will present feedback from VINCI Construction and VINCI Energies projects in the service sector and in operations. The Ecole des Mines will present the decision support tools developed within the Centre Efficacité énergétique des Systèmes to improve choices. Finally, two testimonies will focus on renovation projects awarded the Passive House (outPHit) label in France and abroad, in particular the renovation of a student residence in Innsbruck using prefabricated elements.
Among the speakers: Etienne Vekemans (Maison Passive), Laurent Putzu (Adim), Bruno Peuportier (MINES Paris Psl), Rainer Pfluger (University of Innsbruck)
Learn more
Photo: Passive House Institute