iPHA webinar: "Assessing sustainability: CO2, PE and PER"
2.2.2022 – 2.2.2022, online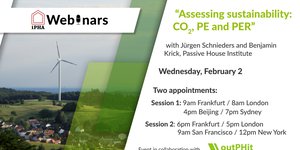 "Assessing sustainability: CO2, PE and PER"
with Jürgen Schnieders and Benjamin Krick, Passive House Institute
The newly elected German government stated its commitment to climate protection in the field of buildings and renewable energy by setting ambitious new goals. This example will be used in the webinar to open up further discussion on the aims of the Paris agreement, and how they can be achieved for the building sector. Research shows the advantages of meeting the Passive House Standard, with regard to reliability, economic results and the possibility to remove CO2 from the atmosphere in the future. Analyses also demonstrate how the different performance indicators CO2, primary energy and PER can lead to large deviations in the assessment of different strategies, influencing decision making. Using several example building and energy supply strategies, the differences of these indicators will further be illustrated during the webinar.
Session 1: 9am  Frankfurt / 8am London / 3am New York / 7pm Sydney
Session 2: 6pm Frankfurt / 5pm London / noon New York / 4am Sydney
Read more