OutPHit: The Strategy That's Scaling Up Retrofits
28.9.2023 – 28.9.2023, Denver, CO, United States of America and online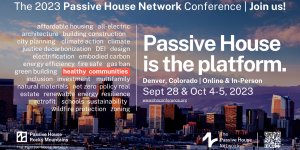 Join us online on 28 September and in Denver on October 4-5 at the 2023 Passive House Network Conference!
Today, communities are being stressed and devastated by the escalating climate crisis: wildfires, droughts, floods, conflicts, energy insecurity, poverty, sickness and inequality. It's all connected. At the 2023 Passive House Network Conference, the Passive House Network and many presenters worldwide will share their ambitions for a better world: Passive House is the platform for your sustainable future!
On 28 September, the outPHit project will be put in the spotlight and presented during the dedicated session "outPHit: The Strategy That's Scaling Up Retrofits". In this session, speakers will give an overview of the outPHit project and its achievements and report on various projects in which the concept has proven successful. Among the projects presented, there will be a social housing prefab renovation in Germany, a university building renovation in France, and a multifamily building in Spain.
Thirty sessions over 2.5 days will provide the most up-to-date actionable industry insights from leading expert professionals and provide AIA and PHI learning credits. On 4-5 October, leading manufacturers will fill an expo in Denver with samples, examples, and more expertise. A reception at the end of each day in Denver will offer the chance to extend conversations. Connect, share stories, ask questions, and learn. Get inspired and take action. It's all about building your Passive House network.
Learn more and register today!