outPHit Verified Performance - Monitoring as a standard measure? (German)
22.6.2022, 19:00 – 22.6.2022, 20:30, online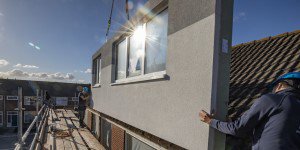 Systematic collection and analysis of data from buildings is the basis for a sound evaluation of the building's function. In many cases, this initially includes an adjustment phase with operational optimisation.
Much can be achieved in this field of action for the quality assurance of Passive Houses, as shown by the Passive House Institute's many years of experience in building monitoring.
The international project outPHit, funded by the EU Commission, is developing a standard procedure to achieve maximum benefit with minimum effort for data collection and analysis. Modern radio and database technologies help to achieve this.
Speaker: Wolfgang Hasper, Passive House Institute
This event is part of the lecture series Passive House Evenings, which is intended to provide information on current topics in the field of energy-efficient building and offer opportunities for professional exchange. The Passive House Evenings are also recognised as further training events by the Passive House Institute, dena and the Chamber of Architects and Town Planners of Hesse.
The Passive House Evenings are organised by IG Passivhaus Deutschland, Passivhaus Austria, Passivhaus Dienstleistung GmbH and the Passive House Institute.
Photo: Bouwbedrijf Joziasse, Goese Polder