Step by step to an energy-efficient building with the EnerPHit renovation plan (German)
21.9.2022, 19:00 – 21.9.2022, 20:30, online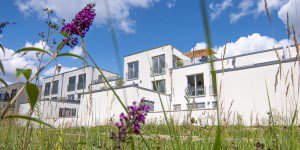 Building owners know that there is always a need for renovation over the years. If you proceed in a planned manner, you can take advantage of such opportunities to improve the thermal insulation at the same time and thus save a lot of heating costs. An overall plan for the house can ensure that all measures fit together well and lead step by step to an all-round comfortable building of the latest standard.
The speaker will give tips for step-by-step renovation and present the tools developed by the Passive House Institute for this purpose.
Speaker: Zeno Bastian, Passive House Institute
Language: German
This event is part of the lecture series Passive House Evening, which is intended to provide information on current topics in the field of energy-efficient construction and offer opportunities for professional exchange. The Passive House Evenings are also recognised as further training events by the Passive House Institute, dena and the Chamber of Architects and Town Planners of Hesse.
The Passive House Evenings are organised by IG Passivhaus Deutschland, Passivhaus Austria, Passivhaus Dienstleistung GmbH and the Passive House Institute.
Photo: NEST Ecoarchitecture