Buildings and the energy transition at the municipal level (German)
14.2.2023, 16:00 – 14.2.2023, 17:30, online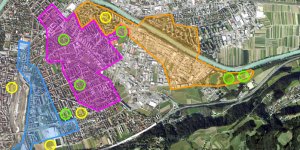 To meet the demands of the energy transitions, we need buildings and neighbourhoods that are fit for the future: They must be climate-friendly and sustainable but also contribute to crisis security and independence from energy imports. The speakers in the webinar will show how these requirements can be met, from the federal level through municipal quarters to example building projects. One thing is certain - only the combination of high efficiency and renewable energies leads to this goal.

Speakers: Jürgen Schnieders and Corinna Geiger, Passive House Institute

Moderation: Luca Müller, Passive House Institute

This webinar will take place online and will be hosted by the Passive House Institute. The language of the presentation will be German.
Learn more
Image: Cnes/Spot image, DigitalGlobe, GeoBasis-DE/BKG, GeoContent, Geoimage Austria,  Landsat