Summer Comfort Guideline now available in seven languages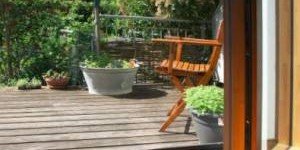 The outPHit consortium has just released a guideline on summer comfort on new builds and retrofits in Bulgarian, German, Greek, Spanish, French and Dutch. "With warming climate conditions, the topic of resilience against overheating is increasingly gaining importance. especially since high indoor temperatures are not only a matter of comfort, but are also highly related to health," explains the outPHit Coordinator Jan Steiger of the Passive House Institute. These language versions compliment the original English-language guideline released earlier this year.
Summer temperatures inside a building are majorly influenced by solar loads, internal heat sources and by the ventilation strategy. The guidelines for summer comfort have been written to raise awareness and to aid building designers in developing robust strategies to ensure thermal comfort all year round. The design aid provided helps to identify effective passive cooling techniques and analyse potential summer comfort risks of a project.
All the files can be downloaded on Passipedia, the Passive Houe Institute's Passive House knowledge database.
Photo: Passive Houe Institute