outPHit consortium visits prefab component manufacturers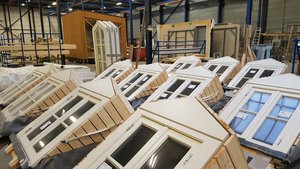 On 13 December the outPHit consortium held meetings with the VanDillen group, a prominent Dutch manufacturer of prefabricated building elements as well as with leading Dutch building engineer Chiel Boonstra of Trecodome. VanDillen has gained vast experience working with prefabricated facades for energy efficient renovations over the last decade. Guided by Boonstra, the company manufacturerd the elements used on the outPHit case study Goese Polder. Boonstra was also responsible for the Netherlands first large scale Passive House refurbishment project, which the outpHit consortium also toured, consisting of 246 units retrofitted with prefab elements in Roosendaal.
During the meetings, outPHit partners shared their ideas to increase uptake of energy efficient, prefab building solutions. They also gained insights into the building situation in the Netherlands inclduing key innovations as well as main challenges. Currently, demand for highly efficient buildings in the Netherlands remains low and national regulations are weaker than had originally been planned. A take home message was that decision makers will pursue less ambitious standards if they see apparently large predicded drops energy demand. One solution to get decision makers on board may be to use a lower but more realistic picture of energy demand as a basis for calculating improvments, taking into account the fact that people in inefficient buildings often do not heat all rooms in the same way.