Policy for deep retrofits: Session materials now available for download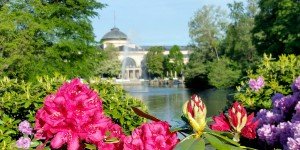 The presentations given in a special outPHit session on policy for deep retrofits are now online. The session took place within the framework of the 26th International Passive House Conference from 10 to 12 March, in Wiesbaden (DE). The dedicated session for policymakers also served as the first working group meeting for municipal practitioners in 2023. It gave over 130 participants insight into how EU renovation policy must translate nationally, regionally and locally to reach our climate goals. The take home messages from the sessions speakers, which included the EU Commission's Stefan Moser, CAN Europe's Eva Bardinelli and Hessenenergie's Jonas Kehl, centered around the importance of high ambition in renovation measures.
Key messages of the policy session
Renovation will be key to meeting climate goals in the the building sector, as some 95% of the buildings that exist today will still be standing in 2050.
While the EU is working to put regulatory frameworks in place to encourage so-called "Zero Energy Buildings" at least in new builds by 2030, the EnerPHit standard for retrofits on the basis of Passive House principles is already helping to fulfil similarly high levels of ambition in renovations and has been for years.
Not all renovations are created equal - we need a focus on quality and transparency. Monitoring and quality assurance measures can help us see where we stand and learn from our mistakes, regardless of varying national regulations and situations.
The local and regional levels are far more flexible and agile than the EU level and it is these levels of government that will have to implement the needed measures. The battle will ultimately be decided from the bottom up.
The International Passive House Conference is the world's largest event dedicated to all things Pass¬ive House. Attracting some 600 thought lead¬ers from around the world to exchange on energy efficiency in buildings, the event offered a wide range of networking opportunities, presentations, workshops and building tours as well as a Passive House component exhibition. The outPHit project featured prominently in throughout this two day event with a number of dedicated presentations and sessions in addition to the special session on deep retrofit policy.
Session contributions
Learn more
Photo: Wiesbaden & Congress Marketing GmbH