Analysis reveals energy savings potential of EnerPHit approach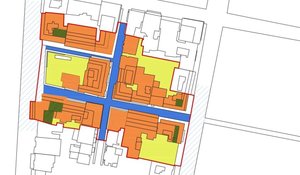 The energy use of entire districts can be greatly optimised with renovation plans based on the EnerPHit standard and Passive House principles as opposed to national legal requirements. A new outPHit study examines renovation scenarios in a Greek, Bulgarian and an Austrian district as well as for all of Germany. Whether conducted component by component all-at-once, renovations carried out with a rigorous focus on superior energy performance avoid lock-in effects. EnerPHit renovations, with their emphasis on high quality building envelopes and improved airtightness as well as inclusion of heat recovery ventilation, lead vast energy savings and significantly lower emissions, even at consistently more comfortable indoor temperatures of 20°C.
In Greek scenario investigated, the renovation of a neighborhood consisting of 14 buildings on the basis to the EnerPHit standard resulted in a four-fold reduction in energy demand despite higher indoor temperatures in winter. In Austria, scenarios through to 2072 were run for the refurbishment of a district in St. Johann with 29 buildings: the EnerPHit standard would bring this district a 250% reduction in greenhouse gas emissions over the long term while allowing new neighborhoods to be connected to the current district heating system with no additional capacity needed. The scenarios run for the Golo Bardo district of Bulgaria show that, while renovation to national standards would achieve a 53% reduction in heating demand, EnerPHit would result in a remarkable 87% reduction. The corresponding 54% reduction in emissions could be brought to 67% with the addition of PV. For the whole of Germany, the study showed that while government plans would, in theory, be in line with the goals of the Paris agreement, they allow little room for error. Consistent implementation of the EnerPHit standard in renovations and the Passive House standard in new builds throughout Germany would, on the other hand, be significantly more cost effective and bring the fulfillment of international goals well within reach.
Each scenario for this district study was conducted with DistrictPH, an open-source, excel-based tool developed by the Passive House Institute. The tool is capable of calculating detailed energy balances for entire districts. It places a special focus is on the development of a district over time, allowing the probability of a refurbishment to a certain efficiency level to be defined depending on a variety of factors. The study is now available online.
Read more