Social Housing project in Madrid receives EnerPHit certification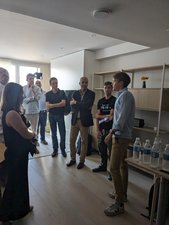 On October 05, 2023, Observer Project 19 of the outPHit project officially received its EnerPHit certification. During the ceremony in Madrid, many of the outPHit partners met with the architects, constructors, component manufacturers and a representative of the new owners to talk about their experience with the building.
The building achieved the EnerPHit standard according to the demand method:
Heating demand:20kwh/m2a
Cooling demand: 6kwh/m2a
n50:0,8 h-1
PER: 71kwh/m2a
The building has PV panels on the roof covering the energy demand of the building's common spaces.
Since July, seven of the building's apartments have been monitored as part of the outPHit project have been monitored and the results will be used for the project.
Read more
Detailed project entry
Find out more about other case studies and observer projects.