EnerPHit quality

EnerPHit is perhaps the world's most stringent and comprehensive standard for energy retrofits. Elaborated on the basis of sound building physics, the standard calls for the consistent use of high quality, energy efficient building components. The result is outstanding energy performance as well as: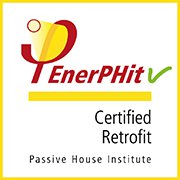 Uniformly warm walls, floors and windows with no more draughts, condensation or mould
A constant supply of fresh, filtered air at just the right temperature, making for superior air quality
A reduction in heating of up to 90% meaning independence from energy price fluctuations and a safeguard against energy poverty
Reduced CO2 emissions due to a lower heating and cooling demand.
Retrofitting with Passive House principles
How can EnerPHit ensure such high levels of energy performance, comfort and quality? The answer lies in the Passive House principles at its foundation. An approach to energy efficient construction with over 30 years of positive examples to show, Passive House combines unparalleled comfort with extremely low energy consumption. A focus on quality design and craftsmanship paired with outstanding levels of airtightness, superior windows, optimal insulation and heat recovery ventilation are the key elements that set Passive House construction apart.
What is good for new builds is good for existing buildings. While the same levels of performance may not be achievable in a retrofit, the same physical principles apply. The EnerPHit Standard ensures Passive House quality in retrofits, calling for the consistent use of Passive House components and very low annual space heating demands. 
Whether retrofitting step by step or all at once, it makes good sense to always go for the highest quality possible. With EnerPHit, you lock in optimal cost and energy savings as well as the highest levels of comfort for decades to come.
Learn more about the specific energy performance requirements of Passive House buildings and EnerPHit retrofits.
The five Passive House principles