The 26th International Passive House Conference
10.3.2023 – 12.3.2023, Wiesbaden, Germany and online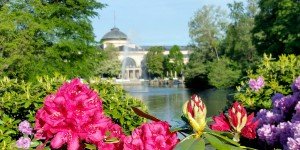 Save the date! the 26th In­ter­na­tion­al Pass­ive House Con­fer­en­ce will take place from 10 to 12 March 2023, both onsite at the Congress Centre of Wiesbaden, Germany and via livestream.
The world's largest event dedicated to all things Pass­ive House attracts about 1000 thought lead­ers and in­nov­at­ors annually to exchange on energy efficiency in building.  A wide range of net­work­ing op­por­tun­it­ies, present­a­tions, work­shops and building tours al­low participants to share their ex­per­i­en­ces with oth­er pro­fes­sion­als and learn more about the latest de­vel­op­ments in energy efficient construction. The ac­com­pan­ying Pass­ive House Ex­hib­i­tion is a hotspot for lead­ing man­u­fac­tur­ers to present their latest products and innovations!
After its first appearance at the 24th Passive Houe Conference, the outPHit project will again be the focus of several dedicated presentations and sessions. In a dedicated session for policymakers, which will also serve as first working group meeting for municipal practitioners in 2023, outPHit will give participants a look into how EU renovation policy must translate nationally, regionally and locally to reach our climate goals.
Learn more
Photo: Wiesbaden & Congress Marketing GmbH