Municipal Working Group on Buildings Kick-Off
24.11.2021, 14:00 – 24.11.2021, 16:00, online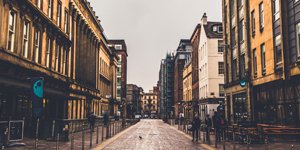 Energy-efficient retrofitting methods and campaigns to motivate citizens
An outPHit survey among municipalities across Europe this summer revealed high levels of municipal interest in the topic of buildings and retrofits. This makes sense: our building stock is generally inefficient and thus a driver of both climate change and energy poverty. In the survey, municipalities expressed the need for training, knowledge sharing and exchange on energy consulting and retrofitting methods. The first Climate Alliance working group on buildings for municipal representatives is now building on these results.
The working group's first meeting will provide an initial opportunity for municipal stakeholders to get to know each other and to analyse the current situation. Where do we stand and where do we want to go? A discus-sion on measures to promote energy efficiency at the local level will be the highlight of this first meeting with presentations on outPHit solutions for faster and cheaper high quality deep retrofits and on the Energy Caravan, a highly effective campaign that municipalities can use to encourage homeowners to carry out energy-efficient retrofits.  A joint question and discussion session will conclude the first meeting. Interested municipalities from across Europe are invited to join in, share their experiences and questions and exchange ideas.
The European city network and outPHit partner, Climate Alliance, is coo-dinating this working group. The working group is designed for municipal representatives and the kick-off event will be held in English.
Read more
Photo:  Anthony Reungère via Unsplash