outPHit consortium exchanges with case study facade manufacturers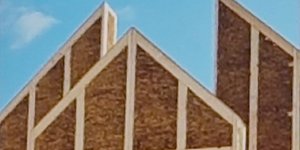 This week the outPHit consortium met with representatives of prefabricated wall system manufactures Ecococon of Slovakia and Hunsiger of France. Both manufacturers are making use of sustainable materials such consisting timber framing and cellulose or straw-based insulation to prefabricate complete façade panels. These panels, made to project specifications in the factory, can then quickly be installed onsite in a modular fashion and are capable of achieving the Passive House levels of energy efficiency. The project partners met with both manufacturers within the framwork of various site visits to case study projects in Paris.
Panels from both companies are being tested in outPHit case studies. Vertical modules complete with windows and filled with cellulose will be used in outPHit case study owned by the University of Lorraine in Metz, France while the Ecococon modules complete with straw-based insulation will be employed in the renovation of a four storey non-residential building from the 1830s in Bagnères de Bigorre, France. Information about both case studies is available online.
Read more